Your Source for Superior Wood-Look Tile in Memphis, TN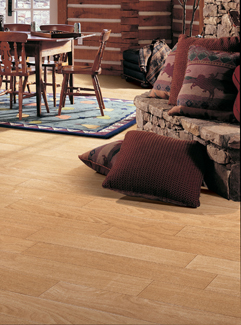 Flooring trends come and go, but one look has remained relevant and respected since it was first used in homes. Natural wood creates rustic elegance and timeless appeal in almost any space, and the demand for it hasn't lessened in today's market. However, intense maintenance requirements and environmental vulnerabilities limit its use in some areas of your home.
At Tim Hogan's Carpet & Floors, we offer the distinctive look you want with a modern material that can stand up to moisture and other pressures. Our wood-look tile in Memphis, TN, opens up options for customers seeking a classic and cohesive home aesthetic without the need for constant maintenance.


The Magic of Modern Flooring
Thanks to today's manufacturing capabilities, you no longer have to choose between value, style, and ease of upkeep. Our tile comes in easy-to-install planks that closely simulate the look of genuine wood while offering superior resistance to moisture. That resistance translates to more freedom in your design plan.
Want a bathroom or a basement to match wood floors in the rest of your home, but find yourself worried about the boards contracting and warping? Could your kitchen use a natural-looking floor upgrade without the anxiety of cooking over easily-stained wood? For these situations and more, wood plank tile is the ideal solution.


Limitless Design Options
Nothing should hold you back when you're creating your dream room. Guided by that belief, we rely on our local knowledge and nationwide buying power to deliver a diverse selection of leading products. With our inventory, you're sure to find something that works with your planned project.
In particular, our wood grain tile can recreate the vast style potential of authentic wood without an expensive and time-consuming staining process. Attention to detail is everything when it comes to establishing your space as a definitive example of your commitment to elevated design, and with the unparalleled freedom of selection you'll find in our showroom, you can pursue the look you want without settling for anything less.


Help with Every Part of the Shopping Process
You have the vision to get your project done, but you may need a little help dealing with the details. When it comes to porcelain and ceramic wood tile, knowing the right products for a particular room can take professional insight. That's why we offer access to our experienced flooring team when you shop at our showroom. Enjoy a relaxed, informative, and hassle-free buying experience and make sure you take the right materials home with our help.



Contact us today to discover the beauty and resilience of our wood-look products. We proudly serve Memphis, Arlington, Bartlett, Collierville, and Fayette County, TN, as well as the surrounding areas.