Tile Flooring in Memphis, TN
Increase the value of your home by giving it a makeover with brand new floors. For an easy-to-maintain, dependable, and design-friendly option, consider tile flooring in Memphis, TN. As one of the most long-lasting flooring options available, a tile floor is popular among homeowners for various reasons. For color that never fades and little to no maintenance required, this flooring is the ideal choice.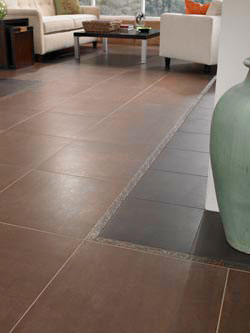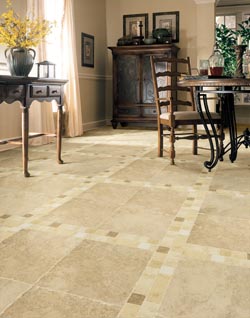 The Distinct Styles of Tile Floor
Tile is Versatile
Regarding both style and selection, tile is great for anyone who wants to create a distinct, attractive theme for any room. Choose the colors, patterns, and designs you want from an almost limitless amount of possibilities to make your home unique. Additionally, we offer contemporary wood-look tile designs for a modern approach. Your floors are sure to last for many years, and the designs hold up throughout heavy activity and the daily wear and tear of an active household.
Tile is Durable
Families with children or pets should consider installing tile. It is easy to clean up spills and messes on tile, and this kind of flooring withstands daily wear and tear. You do not have to worry about upgrading your flooring again or making repairs for many years to come.
Tile is Healthy
Each floor tile is hypoallergenic, so it does not absorb allergens like dust, dirt, or other harmful outdoor or indoor contagions. This improves the overall indoor air quality of your home, so you can feel safe and comfortable inside. Choose from our floor tile selections as an environmentally friendly option if you want green solutions for your flooring.
The Distinct Styles of Tile Flooring
Enjoy the look and feel of polished porcelain or cool ceramic in your home. We give you a variety of styles to choose from to ensure you get the floors that best suit your needs in looks, performance, and price. A traditional ceramic tile floor is easy to cut and shape into the pattern you want for each room. There is a wide selection of patterns and designs to choose from, with the ability to mix and match each individual tile to create a custom image or arrangement.
Glazed tiles have a protective layer which makes them waterproof and stain-proof. Ceramic tile is also resistant to high humidity, so areas that come into contact with a lot of moisture are no problem for tile flooring. When the surface of your tiles gets dirty, simply wipe the mess away with a mop. You can clean them by sweeping or vacuuming to get rid of dirt and other debris. With proper maintenance on a regular basis, your new tile floors can last from 10 to 20 years.
Porcelain tile is made from fine, dense clay that is fired at higher temperatures than when making ceramic. This makes it tough enough to handle anything you throw at it and scratch-resistant. Even if accidents happen, like dropping a plate or spilling soup on the floor, you have the peace of mind in knowing that your floors won't be damaged.
When messes happen, just clean them up with a damp cloth or mix water with a mild detergent to wipe them up. For tough spills and stains, use a heavy-duty cleaning solution. These floors do not absorb spills or stains, so the beautiful color and design stay intact for the lifetime of your floors. In fact, porcelain is great for high-traffic areas either inside or outside.
The Best Rooms to Install Floor Tile
There are a lot of places in your home that are well-suited to tile flooring. Ideal for bathrooms and kitchens because of the easy cleanup and resistance to water, tile is also a good choice for rooms on the first floor of your home. Basements, garages, and workshops are also perfect places for tile because of how durable it is. Even family or recreational rooms can benefit from having a tile floor.

Contact us today to enjoy all of the benefits that tile flooring has to offer your home. We proudly serve the communities of Arlington, Bartlett, Cordova, Germantown, and Collierville, Tennessee.