Durable & Innovative Luxury Vinyl Flooring
Improve your home's beauty, resiliency, and value with Tim Hogan's Carpet & Floors. We are your dependable flooring store for luxury vinyl flooring. With our wide-ranging product selection, outstanding customer service, and professional installation services, attaining picture-perfect rooms in your home is an easy and hassle-free experience. Our showroom in Memphis, TN, features samples of luxury vinyl tile and plank flooring from the flooring industry's leading brands. We have a team of friendly and knowledgeable flooring experts who will work with you to find the best luxury vinyl product to meet your needs. Visit our showroom, where you can browse our extensive catalog, view our luxury vinyl flooring selection samples, and order your favorites. Whether you're planning to re-floor a single room or your entire home, we're here to make your project a success!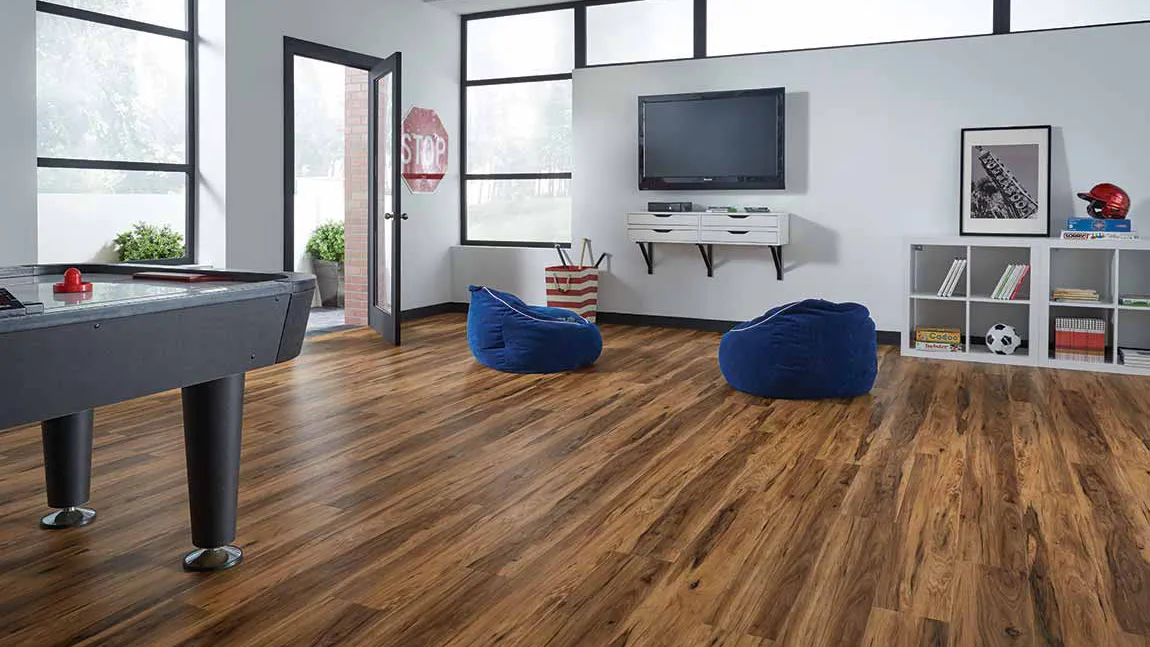 The Luxury Vinyl Advantage
Luxury vinyl flooring has grown in popularity among homeowners and business owners. This is because of luxury vinyl's amazing benefits. It is a resilient flooring material that can accommodate a variety of interior design styles well. Combining strength and beauty, luxury vinyl flooring can go well in any room of your home, from kitchens and bathrooms to common areas and bedrooms. Learn more about luxury vinyl flooring's advantages:
Luxury vinyl is made from

waterproof

materials that can

withstand moisture and standing water

, making it ideal for kitchens, basements, and bathrooms.

Luxury vinyl is a

tough surface

that can withstand even the heaviest foot traffic and roughest wear and tear. It typically comes with a protective layer

resistant to scratching, scuffing, chipping, and cracking

.

It's

easy to keep clean,

and maintenance won't take much of your time

Vinyl is

built to last

and can withstand heavy foot traffic, high amounts of pressure, and can be used throughout your home.
Types of Luxury Vinyl
Luxury vinyl is created in sets of durable tiles or planks. Luxury vinyl tile (LVT) is designed to look like a traditional square tile, while luxury vinyl plank (LVP) is crafted to replicate hardwood flooring planks. Understanding the advantages and differences between them is important when deciding which option is best for your home:
LVP

is a budget-friendly hardwood alternative made using advanced photographic technology that results in beautiful decorative layers with

authentic-looking

grain and whirl patterns that replicate your favorite types of hardwood.

LVT

mimics the look of porcelain, ceramic, and natural stone tile. Still, it is a comfier alternative that is

softer underfoot

and is ideal for bathrooms, kitchens, and other high-moisture areas of your home.

Maintaining Luxury Vinyl Floors
Our luxury vinyl flooring is strong enough to withstand spilling, wear and tear, accidents, and more. This makes it the perfect flooring for active families with pets and kids. Luxury vinyl is a waterproof flooring solution that can resist high-moisture environments like bathrooms and laundry rooms. Before using a cleaning product that may contain harsh chemicals that could damage your new luxury vinyl floors, we recommend reviewing your new floor's warranty. Spills and liquids do not match our luxury vinyl, making no-stress cleaning and maintenance. Regular cleaning can be performed by:
Regular sweeping or vacuuming to remove any dust and debris from the floor.

Weekly wet mopping for a deeper clean.
Professional Luxury Vinyl Flooring Installation
Make life easy for yourself by requesting our professional luxury vinyl flooring installation services. Our seasoned installers know how to install luxury vinyl for a beautiful appearance. Our team will remove your old flooring, properly prepare the subfloor, and install your new flooring so it looks and functions great for many years. Installing luxury vinyl yourself could result in unevenly placed tiles or planks, peeling vinyl layers, or even cracked vinyl leading to moisture seeping through and causing water damage to your subfloor. With professional installation, your luxury vinyl tile or plank adheres securely, so it does not shift or lift, which exposes it to tearing or breaking. We're very confident in our luxury vinyl flooring installation services and want you to be as well. To ensure you have the peace of mind you deserve, we offer our Ultimate Confidence Guarantee to you. With this guarantee, we promise that if you ever have an installation-related issue with your new floors, we'll fix it at no extra cost to you.


Contact us today to pick out luxury vinyl flooring that looks beautifully realistic in your home or business. We proudly serve homeowners throughout Arlington, Bartlett, Cordova, Germantown, Collierville, Memphis, and Fayette County, TN.