Hardwood Flooring Store in Memphis, TN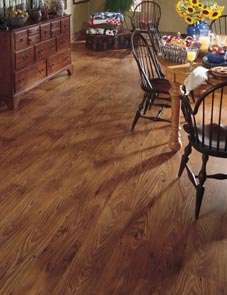 Upgrade your home or business with stunning new floors from our hardwood flooring store in Memphis, TN. Coveted for its upscale look, hardwood is a timeless classic that adds value and appeal to any property. Discover a large selection in our showroom, including solid and engineered hardwood flooring. Because of the many different finishes, grains, variations, glosses, species, edges, and appearances we offer, there's no end to the design potential of our hardwood flooring.
Each species of solid natural wood flooring offers characteristics that are distinctive to that type of wood chosen. Depending on your preference, you can also choose from light or dark varieties in various stains and shades in rustic or elegant styles. Your choices are endless! Ask the design and sales professionals at our flooring showroom to show you samples that will enhance your home. We are happy to guide you every step of the way—from selection to professional hardwood flooring installation. We even offer an app that lets you try before you buy. Just download it to your tablet, and you can see all kinds of different kinds in the same space.
A Striking Selection of Real Wood Flooring
As a flooring option, hardwood never goes out of style and is always in great demand. One of the reasons is that there are so many wonderful choices when you decide to install hardwood in your home. We offer our customers top-quality brand names from the most reputable manufacturers, including Mannington™, Armstrong™, and Mohawk™. These brand-name floors are known for their proven reliability and durability, as well as their superior performance and beauty. Many are backed by warranties for your protection and peace of mind.
If you aren't sure which option is right for you, just ask. We'll be happy to offer suggestions, inspiration, and recommendations. Other choices in our natural wood flooring selections include the following:
Wood Species – Acacia, Birch, Hickory, Maple, Oak, Pine, Walnut, & Birch
Finishes – Light, Medium, or Dark
Grains – Subtle, Moderate, or Prominent
Glosses – Low, Medium, or High
Variations – Little, Moderate, Strong, or Light
There are two basic types of hardwood flooring—engineered and solid. Engineered wood is improved through the manufacturing process, making it durable and stable. This material consists of a veneer of wood species on the top, which provides the appeal and originality of hardwood, and several layers of bonded, high-density fiberboard underneath.
The highly trained installation crew at our hardwood flooring store can install engineered hardwood throughout your house, rather than being only limited to rooms that have low or stable levels of humidity. This is because this flooring option does not swell or contract in reaction to moisture or humidity levels.
Solid Hardwood Flooring Can Last for a Century
Another option and some of the best hardwood floors are solid wood. These are often the fine, aged wood planks you see in traditional old homes. Each plank of solid wood is milled from a single piece of hardwood that can be refinished when the wood shows signs of wear. In fact, you can refinish this type of flooring several times over the life of the floor, which can last as long as a century.
Solid wood flooring is also easy to care for and maintain. Just sweep or dry mop on a regular basis and damp mop with a little wood-cleaning product on occasion. We don't believe high-end floors should come at a high-end cost regarding the time you spend on upkeep and rest assured that ours don't. Our associates can tell you everything you need to know about how to make your new floor last as long as possible.
Protect your rustic hardwood flooring with professional hardwood flooring installation. Our store only employs skilled and knowledgeable flooring technicians. These professionals know exactly how to install wood planks so that they'll lie flat and even. This is essential when putting down wood planks so they don't shift around, which leaves edges and corners vulnerable to cracking and splitting.
Our professional installation also comes with a lifetime warranty. Should you have an issue with, or a concern about, your flooring, let us know, and we'll take care of it promptly and efficiently at no cost to you.
Why We Can Offer Some of the Best Hardwood Floors
Our locally owned and operated business has proudly served the residents of our community since 1984. With our competitive prices, free estimates, and industry-leading warranties, we offer some of the finest service and selection around. Despite being a local showroom, our team is part of an enormous network with national buying power, so we can bring you some of the most trusted brands. Our ability to find the best floor fit for your lifestyle has earned us an accreditation and A+ rating from the Better Business Bureau.
You won't find a better hardwood flooring store in the area when it comes to customer service. We want you to love your floor as much as we do and enjoy it every day. Feel free to ask whatever questions or bring up any concerns you have with our flooring and design experts. We'll help you locate the selection that meets all of your needs and guide you through our showroom until something catches your eye. Among our many durable products are excellent brands that have been in hundreds of homes for years. These include:
Mohawk
Stainmaster
Armstrong
Dal-Tile
Tigressa
Bella Cera
Interceramic
Shaw

Contact us for a free consultation on hardwood floors. We work with clients from Memphis, Cordova, Collierville, Germantown, and Fayette County, Tennessee, and the surrounding areas.