Elegant Hardwood Flooring in Memphis, TN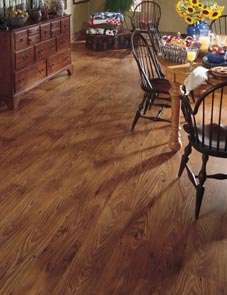 Are you looking for a great way to breathe new life into your property, while adding a traditional and elegant look to it? Tim Hogans Carpet and Floors has the solution. Upgrade the floors in your home or business with our hardwood flooring in Memphis, TN.
Popular for its upscale look, hardwood floors are a timeless classic that adds value and appeal to any property. At our showroom, we offer a wide selection of flooring to choose from including solid and engineered hardwood. Because of the many different finishes, grains, variations, glosses, species, edges, and appearances we offer, there is no end to the design potential of our flooring.
Countless Varieties and Brands
Whether you are looking for the pure traditional look of solid hardwood or want to give a modern twist with engineered flooring, our store has you covered. We offer a variety of wood species to choose from, including:
Acacia
Birch
Hickory
Maple
Oak
Pine
Walnut
When combined with the many stains, shades, and finishes we have to offer, your new wood flooring matches the exact look you want.
At our store, we carry top-quality brands from the best manufacturers, including Mannington™, Armstrong™, and Mohawk™. These brand-name floors are known for their proven reliability and durability, as well as their superior performance and beauty. Many are backed by warranties for your protection and peace of mind.
Solid and Engineered Flooring Solutions
One of the great benefits that a hardwood flooring installation offers for your property is its timeless aesthetic. Wood is highly resilient and stands up quite well to the daily use of a busy household. As time goes by, your flooring will start to show the effects of wear; however, with solid wood, this is easy to fix without having to replace the entire surface.
A solid wood floor can be sanded down and refinished to restore it to its beautiful original state. With solid hardwood, this process can be done many times allowing the floor to last a century or more. This longevity is unmatched and is one of the reasons solid hardwood is still a popular flooring choice.
If you are worried about using hardwood floors in a moisture-heavy environment, like your kitchen, then engineered hardwood is the right choice for you. It is designed to absorb moisture and not swell or contract. This is achieved by pressing multiple layers of wood and other materials into the flooring plank. This process does sacrifice some of the longevity that solid wood provides; however the added moisture protection makes up for it.
No matter which flooring type you choose, they both add value and a stunning aesthetic to your home. To learn more about both solid and engineered hardwood flooring, visit our showroom; our staff is always happy to answer your questions and help you choose the perfect flooring options for your home.
Professional Installation
One of the most important factors when choosing hardwood for your flooring is the correct installation of your new surface. With our team, this is never a worry. We have over 30 years of experience working with flooring and have the tools and equipment to ensure your new hardwood flooring installation looks excellent in your home and will last.
With these installation services, competitive pricing, free estimates, and industry-leading warranties, Tim Hogans Carpet & Floors is your local choice for all your flooring needs. In addition to being local, our team is part of an extensive flooring network with national buying power to find you all the best flooring brands. Come into our showroom to explore our vast flooring collection and let our staff help you choose the right solution for your home.
Contact us when you are looking for an elegant and traditional flooring option for your home. We proudly serve Memphis, TN, and the surrounding areas.